Washoe County Sheriff's Office
For Immediate Release
PR #:
2000006
Date Issued:
Jan 12, 2020 - 2:30pm

---

Deputies recover vehicle stolen while warming up unattended in driveway; K9 helps locate suspect

CONTACT:
Bob Harmon
Washoe County Sheriff's Office
Office 775-785-6235
Cell 775-722-5517
---
Washoe County Sheriff's Office deputies located and arrested a Sun Valley man early Saturday morning shortly after he had stolen a car that was warming up in a residential driveway.
At approximately 6:00 a.m. on Saturday, January 11, 2020, deputies responded to a residence in the area of El Rancho Drive and Wedekind Road where a vehicle had just been reported stolen while warming up in the victim's driveway.
A short time later, a deputy patrolling in the area spotted a vehicle matching the stolen car's description traveling northbound on Wells Avenue near I-80. The vehicle fled when the deputy attempted a traffic stop.
The deputy located the unoccupied stolen vehicle crashed into a parked car in the area of Sadlier Way just east of Valley Road. Additional deputies arrived at the Sadlier Way location, including a Washoe County Sheriff's Office K9 unit.
The K9 picked up the trail of the suspect who was located hiding in bushes inside a nearby apartment complex a short time later. The suspect, identified as Anthony Garcia, age 24 of Sun Valley, was arrested and transported to the Washoe County Detention Facility on multiple charges, including Grand Larceny of an Automobile, two counts of Burglary, and multiple counts for Possession of a Credit/Debit Card without Owner's Consent.
The stolen vehicle was returned to its rightful owner.
Photo 1: A Washoe County Sheriff's Office K9 assisted deputies track down, located and arrest a Sun Valley man shortly after he had stolen a car that was warming up in a residential driveway.
Photo 2: Anthony Garcia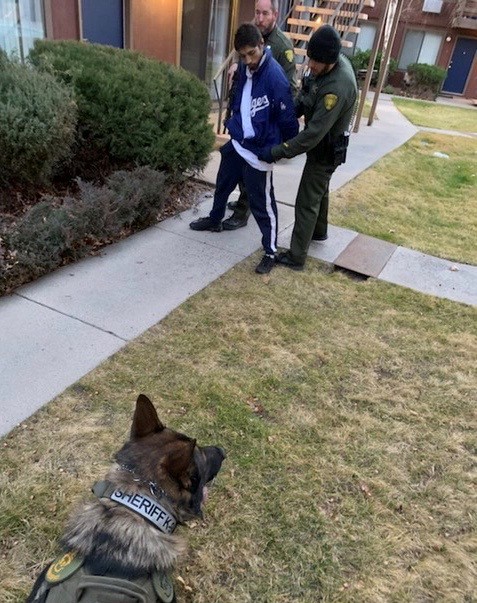 The Washoe County Sheriff's Office is dedicated to preserving a safe and secure community with professionalism, respect, integrity and the highest commitment to equality. Sheriff Darin Balaam is the 27th person elected to serve as the Sheriff of Washoe County since the Office was created in 1861. The Washoe County Sheriff's Office strives to ensure public safety by building trust and creating partnerships within the diverse communities in which we serve. We will promote the dignity of all people supported by our words and actions through open communication while fostering an environment of professionalism, integrity and mutual respect.
###