Community Events
Community Engagement is a top priority of the Washoe County Sheriff's Office. Reducing crime, making neighborhoods safer, and in general improving the quality of life for all of our citizens can only be accomplished through partnerships and team efforts.     
 "Christmas in July" – Back to School Event 
The Washoe County Sheriff's Office, in partnership with the Honorary Deputy Sheriff's Association and AT&T Pioneers are proud to host the Christmas in July - Back-to-School Event each year.
The 2023 event will be held on:
Saturday, July 29th, 2023
10:00am to 1:00pm
Boys & Girls Club of Truckee Meadows
2680 E. 9th Street
Reno, NV 89512
THIS EVENT IS FREE TO ALL YOUTH IN NEED. Just in time for the school year, we provide roughly 1000+ students from the Northern Nevada area with backpacks, school supplies, hygiene items, resources, lunch, and a little fun in the sun! Students from pre-kindergarten through high school will be welcome and distribution will be on a first come first serve basis. Students must be accompanied by their parents/guardians. 
If you have any questions, please call (775) 785-6228. If you would like to donate, volunteer, and/or have a booth/mobile van at the event please send an email to SO-OutreachPrograms@washoecounty.gov.
Christmas in July 2022 Photos.
Shop with the Sheriff
For the past 20 years the Washoe County Sheriff's Office and Honorary Deputy Sheriff's Association have partnered to assist less fortunate youth in our community during the Holiday Season.

One night each year at a local Walmart, The "Shop with the Sheriff" Event pairs children who are referred by local non-profit agencies and the Washoe County School District's Homeless and Transition Program, with volunteers from the Sheriff's Office and the community for a once in a lifetime shopping trip where they can purchase items for themselves and/or members of their family.

For the last four years, The Honorary Deputy Sheriff's Association has provided funding for 250 children to participate.

The 2022 Annual "Shop with the Sheriff" Event was a huge success. 281 children were able to participate, with each child receiving $200 to purchase items for themselves and/or members of their family.

Each selected non-profit, and applicable school, is limited to 25 eligible participants, so we ask that their priority are those children most critically in need. Also, only one child per family is allowed to participate each year with no duplications year to year.

                     

Coffee with a Cop    
The concept behind Coffee with a Cop started in 2011 when officers with the Hawthorne, California Police Department thought it would be a good means to encourage open dialogue with the public. Over time the event grew and in 2016, U.S. Department of Justice Office of Community Oriented Policing Services (COPS) officially declared the first Wednesday in October as National Coffee with a Cop Day.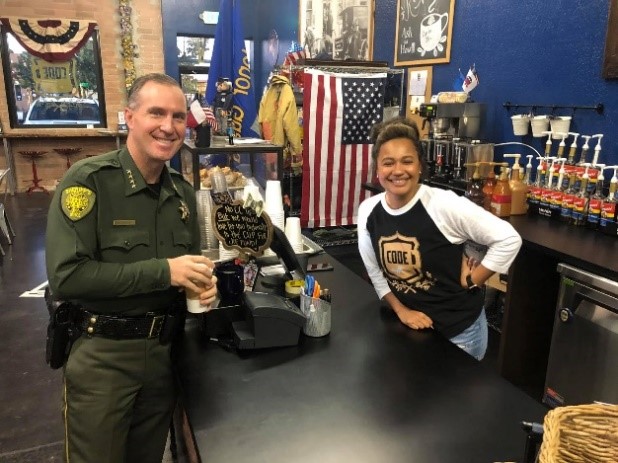 ES Outreach Deputy Program
ES Outreach Deputies are expected to serve as ambassadors and mentors to their respective school(s) and community. Working partnerships between law enforcement and the community we serve are the bedrock of efficient service, trust, and improving our social quality of life. Our current Partners in Education are: Sun Valley E.S., Esther Bennett E.S., Lois Allen E.S., Virginia Palmer E.S., and Incline Village E.S.
ES Outreach Deputies must dedicate at least 12 hours per month/72 hours per year at their assigned school. They are tasked with helping to create safety messaging, help with homework and reading assignments, help principal and team members schedule and participate in community outreach events, give presentations and provide hands-on assistance to assigned school(s).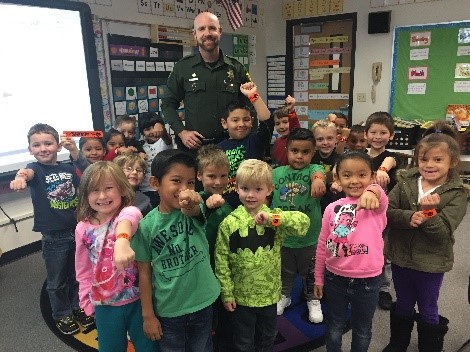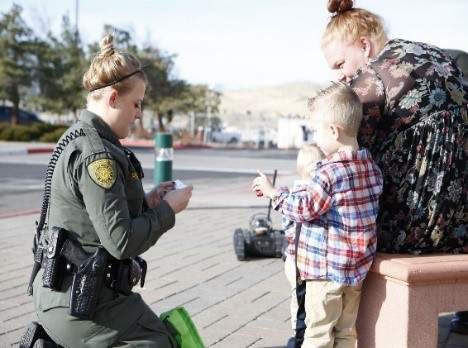 WCSO Community Resource Fairs
Sheriff Balaam and his staff believe that the Sheriff's Office plays an important role in helping those in need connect with agencies that provide essential services necessary for success.  The Sheriff's Office is dedicated to bringing many of these agencies together in one place, at one time, in order to provide resources to our community by hosting Community Resource Fairs.
Why: The Community Resource Fair will feature vendors representing local resources from healthcare providers, to substance use, mental health specific programs, and more.  The fair will support the WCSO's efforts to build trust and create partnerships within the diverse communities in which we serve. The day will bring community partners together, provide useful information and feature raffle prizes for attendees! We hope you will join us at the fair.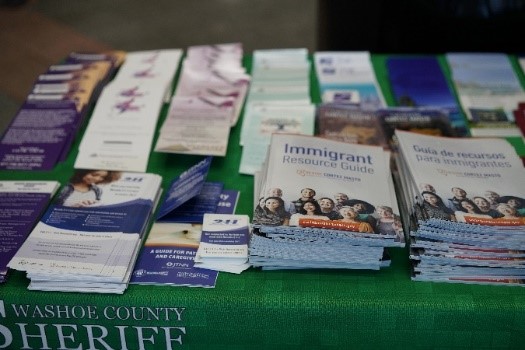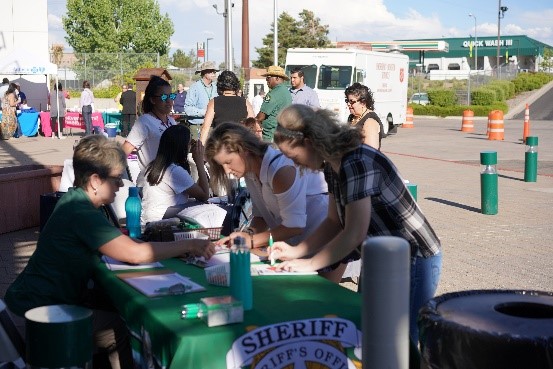 "No Shave" Campaign
Washoe County Sheriff's Office staff have donated more than $66,000 to local good causes by taking part in the Sheriff's "No Shave" campaign over the past three years. We put down the razors to raise money for a variety of causes during the months of October - January.

The "No Shave" campaign is open to all Sheriff's Office staff on a month-by-month basis.  In exchange for a monthly charitable donation, Sheriff Balaam authorizes male deputies to grow facial hair outside standard grooming policy. Female deputies are authorized to have relaxed hair standards and civilians may either take advantage of the relaxed grooming standards, or wear jeans or hats.

So if you come across a Washoe County Sheriff's Office deputy with a well-groomed beard or goatee, know that he is growing it for a good cause.