Washoe County Sheriff's Office
For Immediate Release
PR #:
1900104
Date Issued:
Oct 05, 2019 - 12:54pm

---

Sheriff Balaam praises Detention Facility deputies and medical staff for saving inmate from attempted suicide

CONTACT:
Bob Harmon
Washoe County Sheriff's Office
Office 775-785-6235
Cell 775-722-5517
---
Washoe County Sheriff Darin Balaam is praising several Detention Facility deputies and medical staff for their quick action to save the life of an inmate who attempted to take his own life yesterday afternoon.
Just before 1:00 p.m. on Friday, October 4, 2019, Deputy Michael Cheung was conducting an inmate check inside one of the housing units when he discovered an inmate attempting to hang himself from an upper bunk. The inmate was unconscious and not breathing.
Deputy Cheung called for additional help and immediately began lifesaving measures. Deputies Jose Acuna Flores, Alan Arriaga, Bill Gray, and Mark McNeil quickly arrived at the cell to assist Deputy Cheung.
Staff from the Detention Center's Naphcare medical unit also responded to support lifesaving efforts. Deputy Lindsay Harley arrived with an AED which was applied with the assistance of a nurse from the Detention Facility's medical staff.
Rescuers soon regained a pulse and, after a short time, the inmate began breathing on his own. However the inmate was still unconscious when the REMSA arrived to transport him to the hospital.
The inmate has since regained consciousness, is alert, and is talking according to hospital staff. Medical staff credit the recovery to the initial efforts by deputies and the nurse.
"They are heroes in my book," Sheriff Balaam said. "I am extremely proud that they were able to swiftly apply their training, initiative, and compassion when it was needed the most. Their actions to rescue this man genuinely reflect the Washoe County Sheriff's Office commitment to the safety of everyone in our community."
Photo: Sheriff Darin Balaam is praising the quick response of Deputies Bill Gray, Mark McNeil, Lindsay Harley, Alan Arriaga, Michael Cheung, and Jose Acuna Flores, who, along with Detention Facility Medical staff, are credited with saving the life of an inmate on Friday afternoon.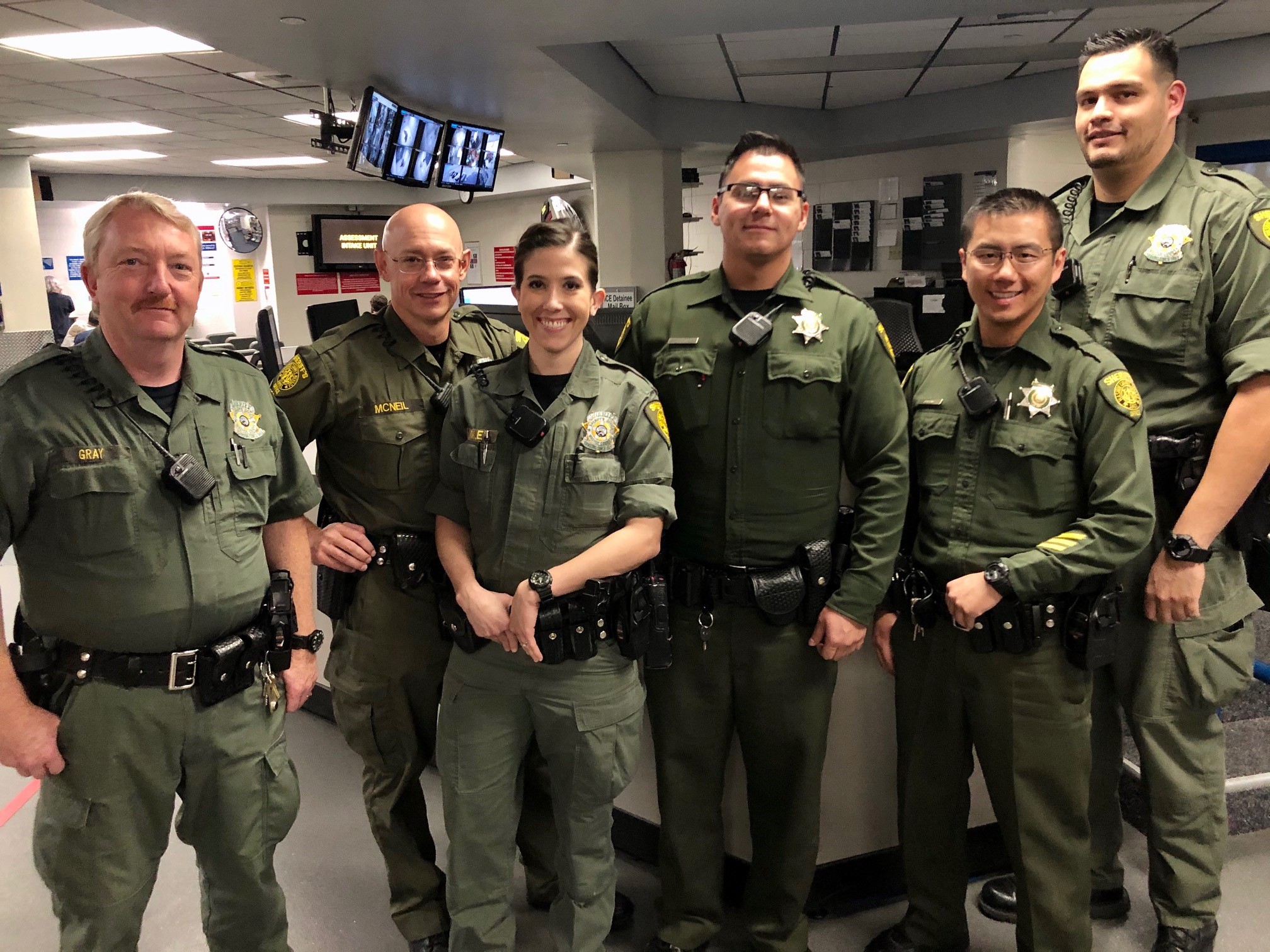 The Washoe County Sheriff's Office is dedicated to preserving a safe and secure community with professionalism, respect, integrity and the highest commitment to equality. Sheriff Darin Balaam is the 27th person elected to serve as the Sheriff of Washoe County since the Office was created in 1861. The Washoe County Sheriff's Office strives to ensure public safety by building trust and creating partnerships within the diverse communities in which we serve. We will promote the dignity of all people supported by our words and actions through open communication while fostering an environment of professionalism, integrity and mutual respect.
###