Washoe County Sheriff's Office
For Immediate Release
PR #:
1900103
Date Issued:
Oct 03, 2019 - 2:27pm

---

Washoe County Sheriff's Office hosts second Community Resource Fair just in time for some Halloween Trick-or-Treating

CONTACT:
Bob Harmon
Washoe County Sheriff's Office
Office 775-785-6235
Cell 775-722-5517
---
The Washoe County Sheriff's Office will host the second in a series of Community Resource Fairs this month as part of ongoing efforts to help people in our community connect with essential services necessary to be successful.
This Community Resource Fair is scheduled for the evening of Thursday, October 24, 2019 and will be held at the Reno Town Mall on South Virginia Street. Because the fair is just a week from Halloween, free trick-or-treating and other Halloween fun will be offered.
Sheriff Darin Balaam believes that the Sheriff's Office plays an important role in helping with the success of those in need, particularly many who have been incarcerated in the Washoe County Sheriff's Office Detention Center and are striving to change their lives. By helping to connect these people with community agencies that can provide a helping hand, the Sheriff hopes to increase the overall quality and safety of the community.
The Sheriff's Office Community Resource Fair is a gathering of community resource agencies that help residents find the resources that can change their lives for the better. From housing to health care, residents can find information about agencies in our community that can help them help themselves.
Agencies planning to participate as of this writing include: Job Connect, Alta Vista Mental Health, Washoe County Law Library, Welfare and Social Services, Access to Healthcare, Liberty Dental, Community Service Agency, Downtown Reno Project, Nevada Department of Safety Parole and Probation, Care Chest of Sierra Nevada, Washoe County Human Services Agency, Washoe County Public Defender's Office, Nevada Fiduciary Solutions, Women and Children's Center, Career College of Northern Nevada, Community Health Alliance, Foundation for Recovery, Health Plan of Nevada, Renovation Mental Health, Good Shepherd's Clothes, Hulafrog, Catholic Charities, Northern Nevada Disability Resource Network, Reno Behavioral Health, Food Bank of Northern Nevada, Anthem, LEAD with Horses, and Tu Casa Latina.
"This is an impressive group of service organizations and agencies and I strongly encourage residents to attend if they have any questions about where to find help with employment, housing, health care, or other essential services," Sheriff Balaam said. "Make sure to bring the family for some pre-Halloween fun."
Washoe County Sheriff's Office Community Resource Fair
When: 4:00 p.m. to 7:00 p.m. on Thursday, October 24, 2019
Where: Reno Town Mall, 4001 S. Virginia Street, Reno
Contact: Bob Harmon: (775) 722-5517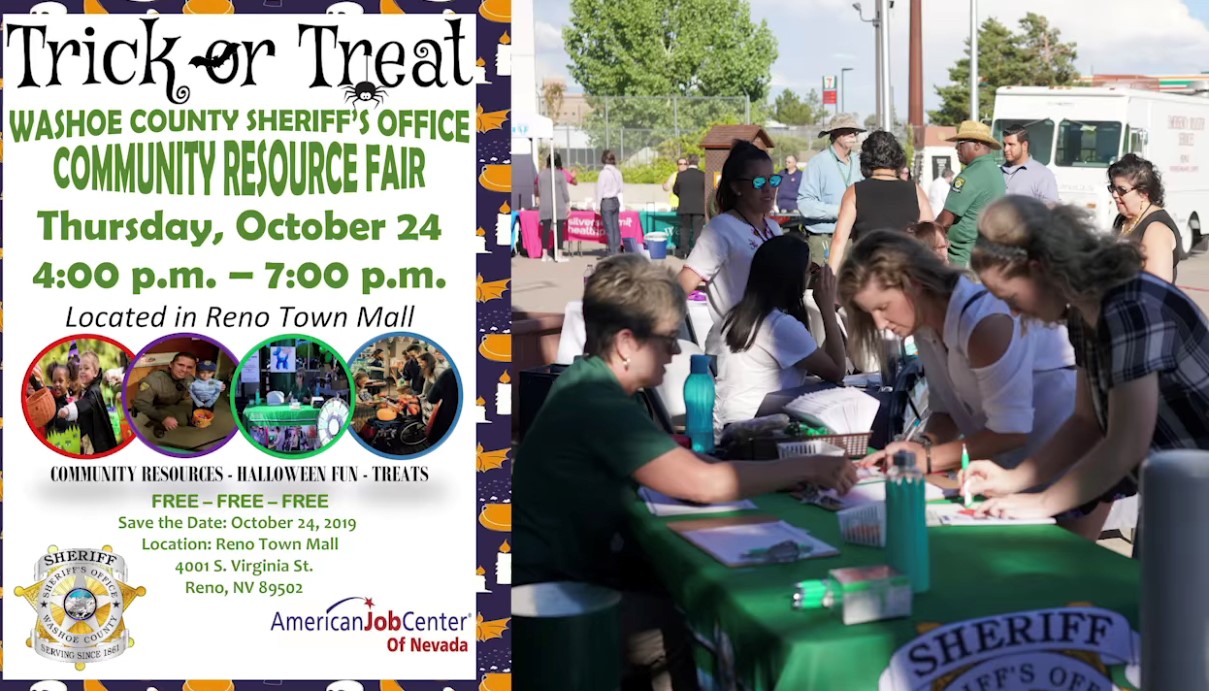 The Washoe County Sheriff's Office is dedicated to preserving a safe and secure community with professionalism, respect, integrity and the highest commitment to equality. Sheriff Darin Balaam is the 27th person elected to serve as the Sheriff of Washoe County since the Office was created in 1861. The Washoe County Sheriff's Office strives to ensure public safety by building trust and creating partnerships within the diverse communities in which we serve. We will promote the dignity of all people supported by our words and actions through open communication while fostering an environment of professionalism, integrity and mutual respect.
###