Washoe County Sheriff's Office
For Immediate Release
PR #:
1900092
Date Issued:
Sep 06, 2019 - 12:20pm

---

Phone scammers continue to use fake Washoe County Sheriff's Office identification to try and make a victim out of you

CONTACT:
Bob Harmon
Washoe County Sheriff's Office
Office 775-785-6235
Cell 775-722-5517
---
Scammers are once again using the Washoe County Sheriff's Office to try and convince residents into sending them money for fictitious warrants.
A Sheriff's Office employee received a message earlier this week from a scammer claiming to be "Lieutenant Kevin Price with the Washoe County Sheriff's Office" who was contacting the employee due to "a missed court hearing for civil duty." Scammers have also been using the name Lieutenant Mike Bassi in a number of calls recently reported to the Sheriff's Office.
The phony lieutenant then asked the employee to contact him at (775) 476-8394, extension 134.
An audio recording of the scammer's message is available by following this link: https://youtu.be/YCwrrNfoZPY
The scammer actually received a call back from Undersheriff Wayne Yarbrough, not the Sheriff's Office employee he was trying to scam. Once the scammer heard it was the real Washoe County Sheriff's Office calling him back, he immediately disconnected.
Typically, these scammers claim that a person has an outstanding warrant or some other court violation and demands immediate payment to adjudicate the situation. The scammer provides additional instructions as to how payment should be made, usually through an "eGift" cash card, pre-paid credit card, or similar payment to a specified account or name given by the caller.
Although the Washoe County Sheriff's Office will sometimes make calls to inform someone about a warrant, the Office will not ask for payment over the phone or negotiate for payment in lieu of arrest. Anyone with questions about a warrant may call the courts and local law enforcement agencies.
These scammers can be difficult to locate because they often use pre-paid phones and are not working within the jurisdiction where the crime occurred.
The public can help prevent these crime by helping to make as many people aware of their existence as possible. Please help spread the word.
Anyone who has suffered a loss as a result of a scam is encouraged to contact the Washoe County Sheriff's Office at (775) 328-3001 (option 7), file a report online at WashoeSheriff.com, or their local law enforcement agency.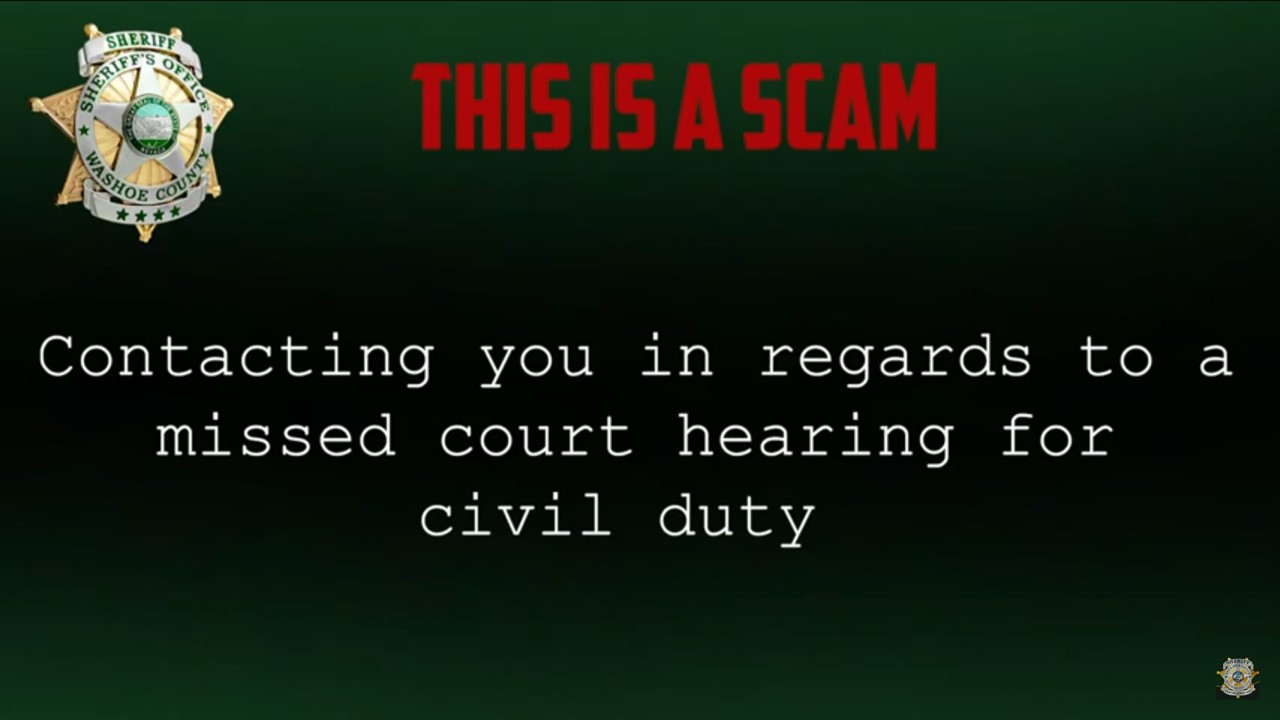 The Washoe County Sheriff's Office is dedicated to preserving a safe and secure community with professionalism, respect, integrity and the highest commitment to equality. Sheriff Darin Balaam is the 27th person elected to serve as the Sheriff of Washoe County since the Office was created in 1861. The Washoe County Sheriff's Office strives to ensure public safety by building trust and creating partnerships within the diverse communities in which we serve. We will promote the dignity of all people supported by our words and actions through open communication while fostering an environment of professionalism, integrity and mutual respect.
###