»
Sheriff's Office encourages residents to take advantage of this Saturday's Prescription Drug Roundup
Washoe County Sheriff's Office
Date Issued:
Apr 27, 2022 - 2:17PM
For Immediate Release
Sheriff's Office encourages residents to take advantage of this Saturday's Prescription Drug Roundup

For media inquiries contact:
Sergeant Jeff McCaskill
Washoe County Sheriff's Office
Office: (775) 328-6235
Cell: (775) 453-0107
---
The Washoe County Sheriff's Office and Join Together Northern Nevada join several community partners this Saturday to provide residents an opportunity to rid their homes of potentially dangerous expired, unused, and unwanted prescription drugs. 
Medicines that remain in home cabinets are highly susceptible to misuse, and abuse. Rates of prescription drug abuse in the U.S. are alarmingly high, as are the number of accidental poisonings and overdoses due to these drugs.  Studies show that a majority of abused prescription drugs are obtained from family and friends.
From 10:00 a.m. to 2:00 p.m. this Saturday, April 30, residents can bring unneeded prescription drugs (in the original containers with the names marked out), prescription liquids, pet medications to the following locations:
Raley's at 18144 Wedge Parkway
Raley's at 1630 Robb Drive
Reno Elk's Lodge at 597 Kumle Lane
Smith's at 175 Lemmon Drive
Smith's at 750 South Meadows Parkway
Smith's at 1225 Baring Boulevard
Reno-Sparks Indian Colony at 405 Golden Lane
Please note, residential sharps will NOT be accepted for disposal.  The service is free and anonymous, no questions asked.
Permanent drop boxes for unused or expired medications can be found in the lobbies of the Reno Police Department, Sparks Police Department and Washoe County Sheriff's Office.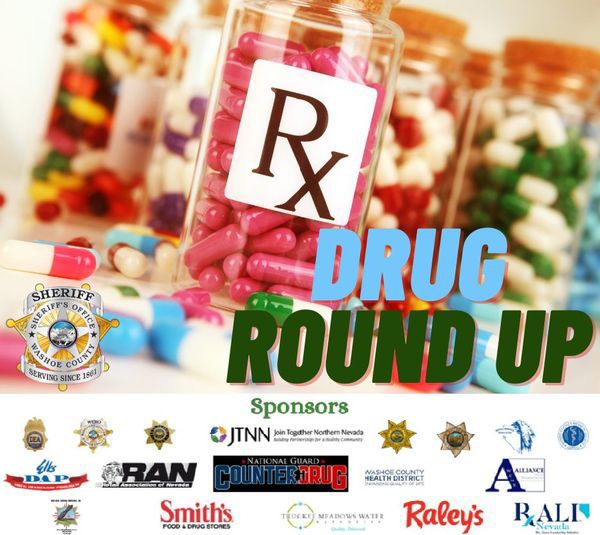 The Washoe County Sheriff's Office is dedicated to preserving a safe and secure community with professionalism, respect, integrity and the highest commitment to equality. Sheriff Darin Balaam is the 27th person elected to serve as the Sheriff of Washoe County since the Office was created in 1861. The Washoe County Sheriff's Office strives to ensure public safety by building trust and creating partnerships within the diverse communities in which we serve. We will promote the dignity of all people supported by our words and actions through open communication while fostering an environment of professionalism, integrity and mutual respect.
###