»
Sheriff Darin Balaam releases third annual State of the Washoe County Sheriff's Office
Washoe County Sheriff's Office
Date Issued:
Feb 01, 2022 - 1:00PM
For Immediate Release
Sheriff Darin Balaam releases third annual State of the Washoe County Sheriff's Office

For media inquiries contact:
Sarah Johns
Washoe County Sheriff's Office
Office: 775-785-6235
Cell: 775-391-0407
---
Washoe County Sheriff Darin Balaam today released the 2021 State of the Sheriff's Office report. The report discusses performance metrics, community engagement and outreach, as well as strategic changes and the results obtained by moving towards intelligence-based policing.
"The women and men of the Washoe County Sheriff's Office, both civilian and commissioned, work so hard to bring community members the highest level of service, and the State of the Sheriff's Office is an overview of their efforts." said Sheriff Balaam. "2021 was another challenging year for our community members. As such, we changed our policing model to provide the community we serve more one-on-one response from our Deputy Sheriffs. We also reimagined Detention Facility programming to create an environment more conducive for the mental health of inmates.
"If we have learned anything throughout the past year – it's that the Washoe County Sheriff's Office and the community we serve can get through difficult chapters together and we can all find cooperative solutions to help keep Washoe County safe."
Highlights of the 2021 State of the Sheriff's Office include:
Stratified Policing metrics and achievements
Creation of the WCSO Mental Health Team
Arrests, Use of Force, Crime Index data
Outreach events
Capital improvement projects
… and MORE
YOU CAN ACCESS THE STATE OF THE SHERIFF'S OFFICE REPORT HERE.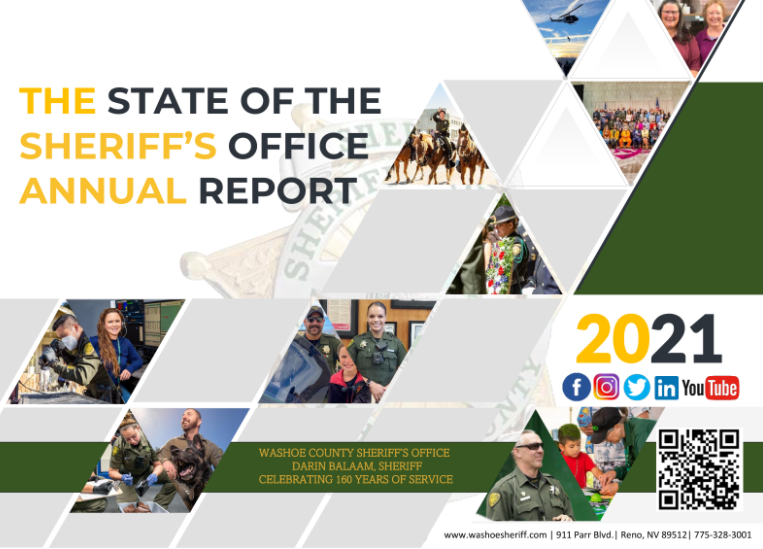 The Washoe County Sheriff's Office is dedicated to preserving a safe and secure community with professionalism, respect, integrity and the highest commitment to equality. Sheriff Darin Balaam is the 27th person elected to serve as the Sheriff of Washoe County since the Office was created in 1861. The Washoe County Sheriff's Office strives to ensure public safety by building trust and creating partnerships within the diverse communities in which we serve. We will promote the dignity of all people supported by our words and actions through open communication while fostering an environment of professionalism, integrity and mutual respect.
###