»
Washoe County Sheriff's Office seeks suspect in Incline Village robbery
Washoe County Sheriff's Office
Date Issued:
Oct 18, 2021 - 6:59PM
For Immediate Release
Washoe County Sheriff's Office seeks suspect in Incline Village robbery

Contact:
Sergeant Jeff McCaskill
Washoe County Sheriff's Office
Office: (775) 328-8710
Cell: (775) 453-0107
---
Washoe County Sheriff's Office Detectives are requesting the public's help in identifying a subject involved in a bank robbery in Incline Village.
On October 18, 2021, patrol Deputies were called to the Wells Fargo Bank 776 Tahoe Boulevard shortly before 2:00 p.m. for a robbery that just occurred. One suspect entered the bank and handed the teller a note demanding money.
The suspect fled the scene on foot with an undisclosed amount of cash.
The suspect is described as a white female adult in her late 20's- early 30's approximately 5 feet tall with an average build.  The suspect is believed to have blonde hair with red or pink highlights.  The suspect was last seen wearing a pink shirt with black pants, pink gloves and a black and white scarf covering her head.
Anyone with information is asked to contact the Washoe County Sheriff's Office Detective Division at (775) 328-3320 or Secret Witness at (775) 322-4900. Refer to case #WC21-5188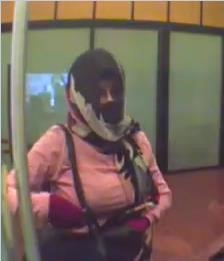 The Washoe County Sheriff's Office is dedicated to preserving a safe and secure community with professionalism, respect, integrity and the highest commitment to equality. Sheriff Darin Balaam is the 27th person elected to serve as the Sheriff of Washoe County since the Office was created in 1861. The Washoe County Sheriff's Office strives to ensure public safety by building trust and creating partnerships within the diverse communities in which we serve. We will promote the dignity of all people supported by our words and actions through open communication while fostering an environment of professionalism, integrity and mutual respect.
###